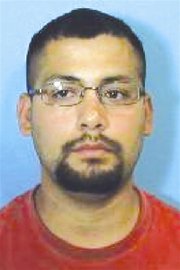 Sunnyside police are seeking information regarding the whereabouts of Manuel Angel Torres, 29, of Sunnyside.
He is wanted for allegedly stabbing a 25-year-old Yakima woman last night just after 6 p.m.
The victim, after being assaulted with a knife, drove herself to Sunnyside Community Hospital where she reported the incident.
She said Torres is the father of her child, and said he stabbed her at a location at South 16th Street and East Lincoln Avenue.
Torres is described as 5'8" and weighs approximately 136 lbs. He has brown hair and brown eyes.
Sunnyside police are seeking him on charges of attempted murder.
Anyone with information regarding Torres' whereabouts is urged to call the Sunnyside Police Department at 836-6200.