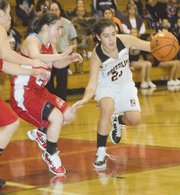 This past Friday and Saturday the Sunnyside girls basketball team didn't fare as well as Coach Rick Puente would have liked.
The Lady Grizzlies lost 55-37 to West Valley last Friday, but turned themselves around to earn a 56-45 victory over Eastmont.
Sunnyside, said Puente, committed too many turnovers Friday.
"We beat ourselves in the first quarter," he said.
In the opening quarter the Rams outscored Sunnyside by 10 points.
The Lady Grizzlies picked up the pace and fought in the second quarter, but West Valley maintained the lead, outscoring Sunnyside 14-13.
The Rams held a 28-17 lead at halftime and Sunnyside was unable to equalize the game in the third and fourth quarters.
The Lady Grizzlies were outscored 13-9 in the third quarter and 14-11 in the final stanza.
Puente said his team was inconsistent, which ultimately played to the favor of the Rams. He was disappointed the Lady Grizzlies didn't play to their capabilities Friday.
The leading scorer against the Rams was Jordan Rodriguez with 10 points, Selena Rubalcava scored nine points and Natalia Bazan tallied eight points.
Saturday, however, Sunnyside righted the ship.
Puente said there were nearly no turnovers by his club and the team played at its top level against Eastmont.
Consistency, he said, contributed to the victory.
Sunnyside opened the game by scoring 12 points while holding the Wildcats to nine.
Eastmont outscored Sunnyside 15-12 in the second quarter for a 24-24 tie at halftime.
The Lady Grizzlies were able to grab the lead again in the third quarter, outscoring the Wildcats 12-11.
Sunnyside maintained the momentum, outscoring Eastmont by 10 points in the final stanza to secure the victory.
"Eastmont is a good team, but Sunnyside came in focused and united," said Puente, stating his team put into action all the skills it knows.
"We played a very, very consistent game," said the coach, stating the defense was on top of its game.
"Defensively, it was the best game of the season...it's a bright spot for what's yet to come," said Puente.
Leading the team Saturday was Rubalcava with 18 points.
Rodriguez and teammate Monique Willingham scored 10 points each and Bazan added seven points to the scoreboard.
Sunnyside (2-2, 5-5) will tomorrow (Tuesday) return to the hardwood at Hanford.