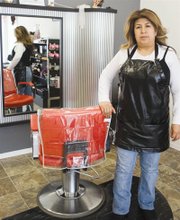 The fire that destroyed Sunnyside's Safari and El Conquistador restaurants last May more than impacted those two businesses. It also led to the closure of a local hair salon, First Impressions.
The salon was owned by Lucy Sanchez and was located in the historic Central Building that faces South Sixth Street.
Although the structure wasn't damaged by the blaze, it received extensive water damage and merchants had to shutter their doors, including Sanchez.
She was unable to operate her business for nearly seven months, but in December reopened the salon with a new name, Divine Styles.
"I am happy to be back..I thought a new name was good for a fresh start," said Sanchez.
Although the name has changed the friendly service has not. Sanchez rents a station to stylist Maria Barajas, who was working at First Impressions when it was forced to close.
Sanchez said Barajas "had to go work in the fields" because she didn't have a station from which she could provide her services any longer.
Now that Divine Styles is open, Barajas has a place to call home again.
"She's very happy," said Sanchez.
The business owner herself was able to lease a station at Celina's Styling Studio not far from where First Impressions was located.
"Celina is a very, very good person...but I needed my own space," said Sanchez.
She said all her equipment was placed in storage during the business closure.
When the Central Building's owner finished repairing the water damage, installing new flooring and remodeling the location's restroom, Sanchez was happy to return to the space located at 446 South Sixth Street.
The longtime business owner and local stylist chose the new business name, stating she believed it would appeal to her customer base, women.
Women, however, are not the business' only clients. She and Barajas cater to families, offering a friendly atmosphere in which individuals will feel pampered.
The business is open from 10 a.m. to 6 p.m. seven days per week. Walk-ins and appointments are welcome.
To schedule an appointment, call 509-515-0051.