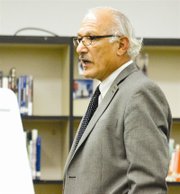 GRANDVIEW - Washington state is among the largest producers of fresh fruit, vegetables and all things agriculture.
Last week WSDA Director Dan Newhouse said Washington's ag production is on par, concerning state revenue, with the aerospace industry in the state.
Though the agricultural business might bring in the same dollar amount to the state, Ricardo Sanchez says the migrant farmers' children aren't allowed the same access to higher education.
Sanchez, director for the Latino/a Educational Achievement Project, along with Grandview students and teachers, asked the Grandview School Board to pass a resolution, at Monday night's meeting, encouraging the state legislature and U.S. Congress to approve policies enabling undocumented students to be eligible for state and federal funded financial aid programs based on their need.
Several students from Grandview's middle and high schools presented to the board anonymous stories from undocumented students across the state who are pleading for a chance at higher education.
"I can't afford to pay for school; my parents are farm workers," one student wrote.
"I want to go to college and make a better life for myself and my family," another student said.
The list goes on with undocumented students who are feeling the burden of their high school graduation date. While their classmates prepare for adulthood and move into dorms, they are left behind.
"I'm just asking for us to not forget about the children," Sanchez added. "They didn't come here (to the United States) on their own will."
Sanchez said some undocumented students arrived with their parents at a young age, and some students were completely unaware that they were not legal citizens of the United States.
Sanchez ended the presentation pleading with the board to remember that just because parents may have not followed all the laws "doesn't mean we should forget about (or punish) the children."
The board will take a second look at and discuss the resolution at the next school board meeting scheduled for Jan. 23.