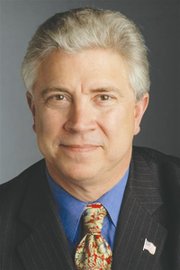 FALL CITY - State Representative Glenn Anderson (R-Fall City) last week announced his candidacy for lieutenant governor in the November 2012 election.
"Olympia must step out of its comfort zone of bending to organized special interests - of both the left and the right - to empower the greater, common good," said Anderson, who has represented the Fifth District for the past 12 years.
Anderson pledged that, if elected, he would use the lieutenant governor's office as a force for thoughtful, independent thinking and advocacy in solving the problems facing this state.
Anderson's 2012 campaign will also emphasize the creation of new, family-wage, private sector jobs. He said his focus will include investing in education while requiring accountability for results.
He says he also wants to see state government live within the taxpayers' means in providing essential services.
Anderson says his campaign will begin full-scale once the 2012 legislative session adjourns on about March 8.