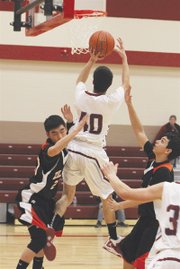 BICKLETON - The Bickleton Pirates varsity came back from two disappointing losses last weekend to defeat the Zillah C squad at home last night (Monday) by a score of 51-41.
Justin Roberts led the Pirates in scoring with 17 points and teammate Taylor Brown got a double-double with 10 points and 24 rebounds.
"Taylor Brown's rebounds and Justin Roberts' scoring really set the tone for the team," said Coach Jerry Roberts. "Our freshmen played pretty good and really stepped up their game to fill in."
Bickleton lost one of their starters to a concussion last Friday.
"It was a nice team effort and the boys really were able to show a lot of character in bouncing back after the tough loss to Lyle," said Roberts.
The Pirates (0-2, 3-6) next take on the LaSalle JV squad at home on Saturday, Jan. 14.