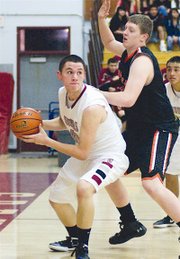 GRANDVIEW - Snapping a two-game losing streak, thanks to seven players scoring at least six points, the Grandview High School boys basketball team improved its CWAC record to 6-2 last night.
Tuesday's 63-45 win over visiting Ephrata was Grandview's second victory of the season against the Tigers.
Leading the balanced scoring attack for the Greyhounds Tuesday evening, with double-digit performances, was the trio of Kiki Mendoza, Isaiah Gonzalez and Brandon Curtis with 12, 11 and 10 points, respectively. Grandview also received strong offensive efforts from Bryce Carpenter, Hector Godinez, Isaiah Ruiz and Sal Escobedo with nine, eight, seven and six points, respectively.
After opening last night's league game with a 15-10 first-quarter lead, the 'Hounds established a comfortable cushion for themselves by going on a 23-13 run in the second period. Grandview outscored the Tigers by a 25-22 margin after intermission to sock the game away.
Shooting-wise, Grandview connected on 44 percent of its shots from the field, which included going 8-for-24 from behind the 3-point arc. Carpenter made three of the eight long-range bombs for the 'Hounds. Mendoza and Godinez knocked down two treys apiece.
Ephrata could get just 36 percent of its shots to fall on a 16-for-44 performance from the floor.
The one area the Tigers bested Grandview was from the charity stripe. Ephrata popped in 9-of-12 from the free throw line, while the 'Hounds made just 3-of-8 foul shots.
Last night's action on the boards was a wash, as Ephrata scraped down 34 loose balls and Grandview came away with 33 caroms. Rebounding leaders for the 'Hounds were Gonzalez and Curtis with eight apiece.
Ruiz, besides chipping in seven points in the winning cause, fed the ball to his teammates on their drives to the hoop enough times to pick up nine assists.
The Greyhounds dominated on the defensive side of the ball, as they forced Ephrata into committing 15 turnovers while only coughing up the ball four times, themselves.
Ephrata's top scorers last night included Tyler Clark with 13 points, and Layton Lange, Jacob Laird and Dylan Benthem with 10 each.
Grandview continues CWAC play this coming Friday and Saturday, playing at Prosser, then returning home to face Ellensburg.