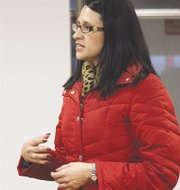 MABTON - The Fred Hutchinson Cancer Research Center wants to partner with the City of Mabton to bring awareness, education and services to the city's residents.
The center recently acquired an inflatable large colon, to show spectators what cancer might look like.
"It's a tunnel," said Nora Gonzalez, Fred Hutchinson Cancer Research Center community health promoter. "Its name is Dr. Dre: Digital Rectal Exam."
Gonzalez suggested the colon be brought to a park in Mabton in March, since "March is National Colorectal Cancer Awareness month," she added.
In addition, the center wants to partner with the city to bring a health fair to Mabton that's focused on health care services.
"In the past we've had colleges (and other entities) set up tents, but this year we want to focus just on health care for residents," Gonzalez added.
The city's part in the fair would be helping the center identify which weekends were free from city-planned activities such as National Night Out and Community Days.
The city will also help decide which park suits the event best and help provide the fair with water and electricity.
The health fair is tentatively planned for June or July this coming summer.
The council plans to designate a liaison from the city to the agency in planning the event.