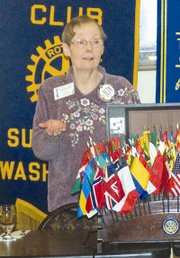 The therapists at Eagle Rehabilitation of Sunnyside, formerly Hillcrest Manor, are about to gain more than 10 times the space they had before, along with a variety of high-tech equipment to help their patients.
In a presentation to the Noon Rotary Club of Sunnyside this past Monday, Eagle Rehabilitation Administrator Mary Arthur and Darlene Wagar, rehab director, described the various changes, besides its name, that the facility is going through.
Arthur said the new construction has added a transitional care unit made up of 24 private rooms and a new rehab gym that is approximately 2,400 square feet in size.
In addition to the new rooms and gym, the entire facility has been remodeled. The dining room is larger to accommodate patients and guests, and Guerra's Coffee Cove will be opening in the building. The chapel and visitors lounges have also been improved, including a new custom built cross for the chapel.
For Wagar, however, the equipment is the truly exciting upgrade for the facility.
Wagar explained how before the remodel therapists had a single patient room to work with, but now they have a large gym with a variety of high-tech gear that will improve the speed of recovery for patients.
The new equipment includes electrical stimulation equipment that will help patients recover muscle control in their arms, and other equipment that can assist patients who have trouble swallowing.
A rail system will allow patients who have difficulty walking to be supported from above as they practice gait and balance exercises.
Wagar is particularly pleased about a dynamic stair trainer that will allow patients to practice navigating stairways similar to ones they will need to deal with at home.
"When you guide a patient up a flight of stairs, only to have them too tired to come back down, it's hard on a physical therapist," said Wagar. "With this I can just lower the patient and there's a ramp instead of a set of stairs."
The ultimate goal of the facility is to give local patients a local place to recover from injuries, illness or operations.
"We have Sunnyside hospital, but a lot of those patients end up in Yakima or the Tri-Cities," said Wagar. "Let's keep them in our community. Let's keep them here with family."
Along with therapy equipment, the gym contains a full kitchen and bathrooms. The design will allow therapists to help retrain people in tasks they did before and make sure the patients are completely recovered before moving home.
"Eagle Rehabilitation is an intermediate step between hospital and home," said Arthur. "We want to get people ready to live at home again. The new rooms are not for long-term stays."
Arthur said the building will be staffed by therapists seven days a week.
"Stroke victims can't wait over the weekend to get therapy," she said. "They lose vital functions in those first days."
The facility will offer both inpatient and outpatient services, making it a benefit to everyone in the area.
The building will be presented to the public for the first time at an open house to be held Friday, Jan. 27, and Saturday, Jan. 28, from noon to 4 p.m.