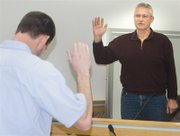 The Sunnyside Planning Commission started a process last night that it hopes will facilitate development in the city.
Tuesday night's meeting saw the commission review current zoning for agricultural and amusement/recreation land uses.
The process involved simplifying some of the zoning categories, for example condensing the basic winery and winery land uses into one category.
Last night's discussion included being cautious about limiting uses in light industrial areas, perhaps opening it up to uses such as recreation and wineries or breweries.
Commissioner Jeff Barrom noted that he would like to see the city be pro-business in allowing some agricultural uses in industrial and commercial areas of the city.
Besides reviewing land uses, commissioners are also taking the opportunity to determine the pace of development.
For example, exercise and gym facilities were viewed last night as essentially gaining automatic approval in commercial areas of Sunnyside. But as a neighborhood business, commissioners said gyms and exercise facilities would first need staff review before moving ahead, based on last night's discussion.
Sunnyside Planning Supervisor Jamey Ayling said the commission doesn't have a timeline for reviewing zoning for land uses in the city. The discussion will continue into future commission meetings and review all potential land uses.
"It's not a small task," Ayling said.
When completed, the planning commission's land use recommendations will be forwarded to the city council for review.
Also last night, commissioners reviewed a code enforcement report from Nov. 27 to Dec. 29, 2011. The report reflected 62 nuisance complaints in Sunnyside during that time, as well as 47 reports of graffiti and 20 sign violations.
Commissioners yesterday also re-appointed DeAnn Hochhalter as chair and Francisco Guerrero as vice chair.
The Sunnyside Planning Commission's next scheduled meeting is Tuesday, Feb. 14, at 6:30 p.m. at the Law and Justice Center.