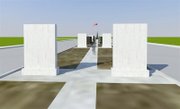 Organizers of the Jerry Taylor Veterans Plaza announced recently a granite wall for the site is in Seattle, where it is being prepared for engraving the names of veterans.
There are 40 plaque spaces still available on the granite wall and they can be ordered by calling Greg Schlieve at 882-4498.
The wall with engraved plaques will be erected on the veterans plaza by this summer.
Plaques can be purchased for any veteran who served in the military, living or deceased.
In addition, veterans need not have lived in the Lower Valley and plaques are available for veterans whether they served during war or peace time, stateside or overseas. Plaques can also be reserved for those who served or are serving in the reserves, National Guard or active duty.
"We wish to honor all veterans who served in the military," Schlieve said. "Because of them we are a free people."
He added, "This is the only veterans memorial in the Northwest, that we know of, where a plaque can be purchased to honor an individual veteran. We encourage our citizens to take the time now to honor a fellow veteran; to say welcome home and to tell them thank you for a job well done."
The following plaques have been purchased so far for veterans on the granite wall that will be installed at the Jerry Taylor Veterans Plaza:
Donald Baker, Rex Lund, Thomas Merry, Braunoe Richards, Jack Keel, Robert Garman, Jesse Fierro, Leroy Werkhoven, Macel Sills, Ben Sills, Wallace Sills, Michael Moore, Darwin Vanderpol, Earl Padelford, Michael Padelford, Russell Neill, Robert Crossier, Irvin Rolland, Kenneth Jones, Harry Purdy, Frank Goulet, Wallace Goulet, Robert Tucker, Clifford Benjamin, Dick Bain, Michael Nelson, Ernest Duran, Clarence Zahn, Fred Dobrauc, John Dobrauc, Roy Dobrauc, Charlie Dobrauc, Ronald Dobrauc, Edward Lester, Ernest Schlotfeldt, Timothy Butler, Henry Bogert, Magdaleno Gamboa, Lisa Perrault-Shaffer, William Tromp, Clarence Porter, Robert Porter, Richard Porter, Dale Brauhn, Tom Williams, Jim Williams, Johnnie Mengarelli, Hollis Andrews, John Saras, William Stough, Roger Shrewsberry, Bill Vancik, James Swindell, Darrel Cook, Robert Crossley, Jose Gonzalez Jr., Joseph De Rigio, Garrett Oord, Douglas Means, Orval Reesman, Russell Reynolds, Arnold Steffens, Gordon Steffens, Harry Steffens, Jerome Steffens, Gene Steffens, Michael Steffens and Danny Nash.