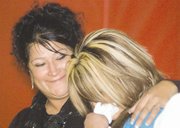 Human trafficking: the United Nations defines it as a crime against humanity.
It involves an act of recruiting, transporting, transferring, harboring or receiving a person through the use of force, coercion or other means, for the purpose of exploiting them.
Between 100,000 and 300,000 children in the United States are victims of sexual exploitation each year, Sunnyside's Promise Case Manager Suzi Carpino stressed at yesterday's Human Trafficking Awareness symposium held at the Sunnyside Community Center.
On average, girls are first exploited for commercial sex, between the ages of 12 and 14 years old, while boys are taken at the ages of 11 to 13.
"Girls are recruited at home, or on their way to school by boys and men they know and their girlfriends, and some also known as pimps," Carpino said. "These people love and lure them in with promises of manicures, haircuts and clothing."
But does it happen here in the Lower Valley? Carpino says yes, it does.
She says although human trafficking looks different in the Lower Valley than it does in Yakima, Seattle or even Asia, it still occurs here on a daily basis.
As human trafficking relates to criminal gang culture, "They (the children) are being traded for guns, drugs or money," Carpino said.
In gang culture, she says, members have to maintain certain statuses, and for some, that means providing sex acts to others for drugs, guns or money.
"They don't think of it as prostitution, but there is no such thing as a child prostitute," Carpino added. "Kids don't choose to be prostitutes, people prostitute them."
Sunnyside's Promise, Carpino and several trafficking task forces in Yakima and Benton counties are working this year to distribute information in hopes to increase awareness of the human trafficking industry and its ties with child gang recruitment.
Carpino asks citizens to "do their part," and ask questions.
"Together, once we get it, we can start fighting it," she added.
The questions to ask, according to the National Human Trafficking Resource Center, include whether there is evidence of the individual being controlled, bruises or signs of physical abuse, fear or depression, whether the individual is speaking on their own behalf, or not able to speak English at all and whether or not the individual has a passport or identification documents.
For homegrown victims, Carpino says to keep eyes and ears open.
"Most people (have a gut feeling) when something's not right," she said. "But if we all do our part and come together, we can make a difference; it's working in other areas."
For more information on missing persons, visit www.missingkids.com.
Carpino says if the community rallies together to fight for local children, some might be found, saved and even protected.
"Because it truly does take a village to raise a family," she said.
Amber Schlenker/Daily Sun News
Sunnyside's Promise Case Manager Suzi Carpino listens as Maria Elena Mojica (right) tells the story of her missing daughter, Jessica Mojica Estrada. Almost one year ago the Sunnyside teen (now age 14) went missing. "I want to tell my daughter I miss her and just want her home," Mojica said. Estrada is listed with the National Center for Missing and Exploited Children and the Washington State Patrol Missing Persons Unit. The teen's photo can be found at www.misskingkids.com. Anyone with information regarding the teen's whereabouts is urged to phone the Sunnyside Police Department at 836-6200, the Washington State Patrol's Missing Persons Unit at 1-800-543-5678 or the National Center for Missing and Exploited Children at 1-800-843-5678.
1 Amber Schlenker 1/12/2012 3:27 PM