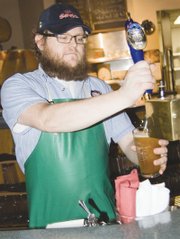 Chad Roberts says he learned his passion for excellence from his parents.
"My dad owns a business, and he puts his all into it," he said. "I try to do that no matter where I'm working."
Roberts has been the (head) brewer at Snipes Mountain Brewery in Sunnyside since last March.
Roberts says with every job he sees his work as if he were the owner himself.
"I try to increase productivity and I couldn't hope for anything more here at Snipes," he added.
In August 2010 he began at Snipes as an assistant brewer.
"(But) when the head brewer put in his two weeks (notice last March), I was offered the (head brewer's) job," Roberts said.
But Roberts got his first recognition as an assistant at Snipes.
"(The head brewer) said I could make up my own recipe," he added. "So I tried to figure out an old (favorite) winter beer."
The Mr. Chazz First Brown beer made its debut last winter through Snipes. It was a California common, which is a lager beer brewed at ale temperatures.
But the love of brewing goes beyond last August for the 29-year-old.
"(I enjoy) tasting something I've created," he added. "But also having other people enjoy it and being able to get that feedback is probably the most rewarding part of it (all)."
Roberts began brewing beer in the comfort of his own home. The Selah native began home brewing beer and got linked up with others in the Yakima Valley who do the same.
He also keeps his skills polished by learning from other professionals.
"I attend hop school through Hop Union in Yakima every year," he added.
Ancient people brewed beer adhering to superstitions, according to Roberts, that is, repeating the same process.
"But the most important part of (brewing) is sanitation and keeping everything clean and bacteria free," he said. "So your beer maintains the same quality."
What he's most looking forward to this coming year is Snipes Mountain Brewery's quinceanera (its 15th anniversary). The brewery has a "spring barrel tasting" planned for this coming April.
Barrel aged beers, along with sours will be offered at the tasting. Guests will determine what blend of the beers are the best.
"From there we will determine what blend of the barreled beers with some of our new beers will be (our anniversary beer)," Roberts added.
Small wine-like bottles will be corked with the brewery's special anniversary beer. This coming July the brewery will hold a barbeque and release party for the special brew.
"It'll be fun to celebrate Snipes," he added.