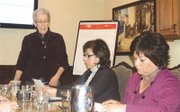 Joni and I recently went wireless - no landlines - and are amazed at the number and sheer variety of apps out there, many of them free.
From games to desktop publishing to books, as the commercial says there truly is "an app for that."
With the Sunnyside City Council quickly fracturing into a 4-3 divide just days into the new year, here are some other apps I'd like to see:
- The Yes Means Yes app. Less than two months after agreeing to a fee for legal services, Sunnyside's gang of four wants to tear it up and cut the bill almost in half...possibly leaving the city without legal representation.
If there's anything I've learned about Sunnyside over these past six-plus years it's that this city needs legal help...and now's not the time to turn our yes to no.
- The When it Raines it Bores app. Newly-seated Councilman Jason Raines wasted little time in putting the city at risk with its legal representation.
This confrontational nature should be no surprise given the tone on his blog. Just once, a calm, rational - even boring - Raines would be a nice contrast to what we're seeing.
- The Ghost of Council Past app. Two members of the gang of four - now mayor and deputy mayor - leading the charge at city hall have been on the city council before.
We have them largely to thank for a former city manager who put the city in all kinds of legal hot water. Keep that spector in mind as we march forward into the past.
- The Nick of Time app. Likely the most centrist of our city council members is Nick Paulakis. He does a good job of seeing both sides of the issues presented to council...a trait that would serve our new council members well as they begin their service.