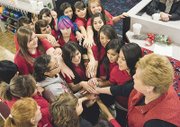 In the Lady Grizzlies' final bowling match of the season, the possible outcome left the crowd on the edge of their seats.
"Because it was senior night, there were a lot of parents and students (at the match) cheering us on," Coach Tina Peabody said.
The team, says Peabody, was extra pumped up as their friends and families came out to watch the match against the Selah Vikings on Grizzly turf at Valley Lanes yesterday (Thursday).
The match started out strong with the Lady Grizzlies wining the two opening games, 679-594 and 778-560.
Sunnyside's Amanda Villarreal and YaYa Gonzalez, both notching turkeys in the openers, rolled the top two-game series of 337 and 300, respectively.
Turkeys are earned when a bowler records three consecutive strikes.
In the losing cause, Taylor Jones rolled a two-game series high of 291 for the Vikings.
Sunnyside's Johanna Chumley, Veronica Alvarez and Adriana Lopez contributed with two-game series of 295, 293 and 232, respectively.
Selah attempted to make a comeback, winning the two Baker games, 147-138 and 134-130. In Baker bowling, each member of the five-girl squad alternates taking turns throughout the 10-frame contest. The match was tied at 2-2.
The win was handed to a proud Sunnyside squad, besting Selah with a greater total pinfall of 1725-1435.
Yesterday's win, however, will not take the Lady Grizzlies (5-8) to the District playoffs, because Sunnyside needed help with an Ellensburg victory over Pasco yesterday. That did not occur.
Though Sunnyside will not be sending a team to Districts, Peabody said there is a chance some individual players will be advancing.
"We'll have to wait and see how the other teams did," she added.
In JV action Thursday, Sunnyside swept the Vikings 4-0.
"The girls bowled extremely well yesterday; we really ended the season with a bang," said Peabody.
Rod Smith/Daily Sun News
The Sunnyside bowling squad gears up for the final match of the season against Selah yesterday. The Lady Grizzlies earned the win with a greater total pinfall, 1725-1435.