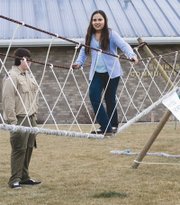 Yesterday (Sunday) fathers in the community were provided a unique opportunity for enjoyment with their children thanks to Family Connections Yakima Valley.
"Almighty Dads Day," said Humberto Rodriguez, "was a success."
He said the non-profit organization with which he is associated organized several activities with the assistance of other community organizations.
"I didn't know what to expect, but we had approximately 15 fathers and 35 children here," said Rodriguez.
The event was held at the Sunnyside Community Center.
Fathers and children were able to learn about Boy Scouts while enjoying several activities set up by local Troop 643. A monkey bridge was among the stations set up by the organization's leaders.
Troop leader Tim Bardell said, "We also had pictures of various Eagle Scout projects from throughout the community."
Jose Flores is a father who attended Almighty Dads Day. He said he enjoyed the event and had the opportunity to construct a napkin holder with his four children.
"I got a lot of ideas for activities I can do with my children," he said, stating his children range in ages from 4 to 13-years-old.
Ted Esquivel, another father at the event, said, "There should be more events like this one...it gives fathers quality time with their kids."
Rodriguez said that was the objective of the event. He said he has heard many in the community express an interest in events like the one held at the community center yesterday.
"The problem is there are a lot of people saying we need this, but not many are doing it," he said.
Rodriguez was encouraged by yesterday's turnout, stating he was especially happy when he heard the responses from the fathers who attended.
"There was one father who impressed me most...if we had the event just for him, it would have been worth it," said Rodriguez.
He said the event was made possible with the help of Marcelina Ortega of the Sunnyside Library, Kathy and Gene Iwami of Grandview's Extra Mile Student Center, the Boy Scouts, Mike Carpenter of the Grandview Parks and Recreation Department and several others interested in helping fathers learn how they can interact with their children.
There was a reading corner, Frisbee golf set-up, air hockey, open basketball, woodworking, foosball and cooking station.
"It was totally worth it," said Rodriguez.