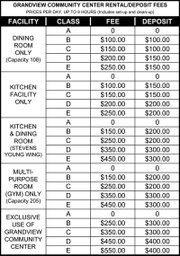 GRANDVIEW - The Grandview City Council last week approved policies and rental fees for the newly constructed Grandview Community Center scheduled to open in the spring of this year.
The Grandview Community Center Advisory Committee was formed last year to make recommendations for policies and procedures for the new community center. The chair of the committee, Nancy Davidson, was on hand at the council meeting to clarify any concerns of council members.
The policies establish the director of Grandview's Parks and Recreation Department as the manager of the community center and declare the City of Grandview and American Legion Post #57 have first priority for any events at the center. Other provisions prohibit alcohol except as provided in Grandview Municipal Code 5.22 and declare that no events will go past midnight.
The rental fees were set for five classes of renters based on the sponsor and type of activity to be held at the center.
Class A is for events held by the city. Class B is for non-fundraising activities sponsored by government agencies or non-profits. Class C is for events by the same groups that involve fundraising activities. Class D and E are non-fundraising and fundraising events, respectively, sponsored by private groups or organizations.
Fees are set for each area of the center a group wants to rent or for the entire building and range from $100 to $550 for up to 8 hours in a single day, not including a deposit. An extra fee of $50 for each community center staff member, such as a janitor, needed at the event is also listed on the fee schedule.
The city council approved the policies as recommended by the committee. Davidson invited council members to tour the building in a couple of weeks.
The rental fees for the new Grandview Community Center will be based on the type of the sponsor and the activity, listed on this chart as the "class."