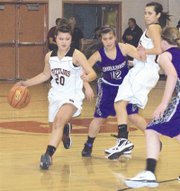 The Sunnyside girls hoops team this past Friday defeated Pasco 54-32, but the celebration was short-lived with an 82-46 defeat at the hands of Kamiakin.
The Braves are ranked second in the state 3A division and took Sunnyside by surprise with the intensity of their defense, according to Lady Grizzly Coach Rick Puente.
He said Sunnyside had difficulty against Kamiakin's defense. "We couldn't seem to keep the ball in our hands leading to a huge first quarter for them (the Braves)," he said.
Kamiakin got off to an early 28-9 lead, but Sunnyside settled into the second quarter and held to the fundamentals. The scoring margin was much smaller in the second quarter, 19-17 in favor of the Braves.
However, Sunnyside wasn't able to equalize the game and Kamiakin kept chiseling away at any hopes the Lady Grizzlies might have.
In the third stanza, the Braves outscored Sunnyside 25-12, and in the final quarter the advantage remained on Kamiakin's side.
Lady Grizzly Jordan Rodriguez scored nine points and teammate Hannah Fernandez scored seven points to lead the team.
Also adding to Sunnyside's totals were Tiana Perez and Vanessa Alvarez with six points apiece.
"It was tough to battle back from the first quarter," said Puente.
He said there were situations throughout the game that led to mistakes. "We didn't take care of the little things and opened the door for Kamiakin," he said.
Puente said the Braves were given extra opportunities with the ball and capitalized on them. The biggest opportunities were created when Sunnyside committed turnovers.
"This year's team is young, but they are making adjustments," he said of the Lady Grizzlies.
"This team can play very well when they are giving their 'A' game," he said, adding, "It's promising."
An example of doing well was provided Friday when Sunnyside defeated Pasco.
Puente said, "We played a real solid game."
He said the team set some goals for itself and met them in the game against the Bulldogs.
"We played well on both offense and defense," said Puente, noting defense was emphasized at last week's practices.
He said the team worked hard to deny passes by the Pasco players.
"Celia (Vargas) and Sydney (Hernandez) did a good job of reading the passes and getting the steals," Puente said.
He said the Lady Grizzlies still need to work on preventing unnecessary fouls and giving their opponents extra scoring opportunities.
Leading Sunnyside in scoring this past Friday was Selena Rubalcava with 14 points, nine of which were from beyond the 3-point arc.
Alvarez added another 12 points to the scoreboard and Rodriguez tossed in nine points.
Vargas and Natalia Bazan scored eight and seven points, respectively.
Sunnyside (3-4, 6-7) will this coming Friday host Southridge and on Saturday will travel to Kennewick.