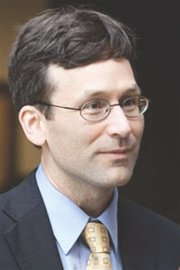 SEATTLE - Candidate for Washington State Attorney General and chair of the King County Law and Justice Committee, Bob Ferguson recently announced a plan he would pursue, if elected, to hold DUI offenders even more accountable.
"Washington currently has a higher percentage of DUI-related deaths than 43 other states," said Ferguson. "As Attorney General, I will fight to make our roads safer and protect families traveling on our roads. The time has come to take a tougher approach."
In the past five years, nearly 2,000 people have been killed as the result of drunk drivers on Washington state roads. Among the 50 states, Washington ranks seventh in the highest percentage of DUI-related deaths.
Ferguson's proposal announced last week would increase the sanctions for DUI offenders who injure or kill others and for repeat DUI offenders.
In addition he would seek to enforce zero tolerance for driving under the influence of PCP, meth, cocaine and ecstasy.
Ferguson's proposal calls for doubling the penalties for vehicular assault (DUI) and vehicular homicide (DUI). He proposes doubling the jail time for anyone convicted of driving under the influence with a child in the car.
He proposes joining states that make the third DUI received in the span of 10 years a felony. Ferguson also proposes joining the 15 states that make it an automatic, or per se, DUI offense for driving under the influence of any amount of PCP, methamphetamine, cocaine or ecstasy.
Ferguson also calls for enhanced drug and alcohol treatment options for DUI offenders to reduce DUI recidivism.
His plan has been endorsed by Island County Prosecutor Greg Banks. "I strongly support the three strikes model for DUI convictions," Banks said. "Allowing someone to rack up five DUIs before a serious penalty is imposed is just playing Russian roulette with the lives of anyone who drives, walks or bikes on our roads."
In announcing his plan, Ferguson noted the work being done around the state by prosecutors, legislators, Washington State Patrol troopers and local law enforcement on the DUI issue.
"Our law enforcement community has done an admirable job enforcing the laws on the books," said Ferguson. "It's time to help them out by strengthening our laws, and let those who would drive drunk know there will be serious consequences."