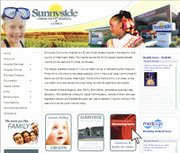 The employees at Sunnyside Community Hospital are bringing their expertise to the World Wide Web.
"Community Highlights Online" is a new weekly feature that takes a look at the programs, highlights, services and people of Sunnyside Community Hospital and its clinics.
Last week's guest for the pilot video was the manager of the radiology department, Coleen Goulet. Her 10-minute video takes viewers through the ins and outs of mammography, giving patients advice on when to receive a mammogram and what the process entails.
Sunnyside Community Hospital Community Relations Director Tom Lathen said this new project is intended to increase awareness of several health issues that arise in the community.
"The reaction has been positive so far," he added. "I'm trying to make (the videos) patient oriented."
The next videos planned will outline diabetes in a series of three short programs for viewers that might need more information on the matter.
In addition, Lathen says the videos will eventually be in Spanish as well.
"I have (hospital staff working on that with me) but we are probably three or four months away from achieving that," Lathen added.
Lathen said he hopes to post videos to the hospital's website weekly at www.sunnysidehospital.com.