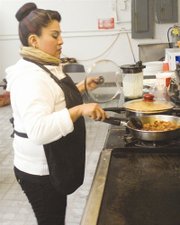 Sunnyside area consumers can now enjoy a traditional Mexican meal and surf the web at the same time.
Erika and Daniel Diaz began working towards opening their own business nearly a year ago.
In mid-December 2011, their hard work paid off as Torta Supreme opened its doors in Sunnyside.
The restaurant, located at the old Knot Hole Gallery at 325 Yakima Valley Highway, is committed to serving Mexican and American dishes.
In addition to specialty foods at Torta Supreme, the business also offers a free Wi-Fi connection to its customers. But that's not all, on the weekends the owners say the restaurant serves a specialty Mexican dish: menudo.
"We also serve menudo every weekend," owner Erika Diaz added.
"We wanted to have a specialty (menu item) every weekend," she added.
The restaurant is open from 10 a.m. to 10 p.m. every day.
Torta Supreme cooks also specialize in traditional American breakfast meals, including pancakes, eggs, hash browns and the like; all for less than $10.
"Giant burritos are (also) our specialty," says Diaz.