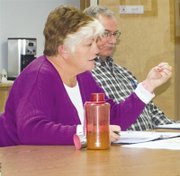 The Port of Sunnyside was informed at last night's meeting that a company would like to move into the valley to convert manure and other agricultural waste into methane gas that can be used for energy.
Port property manager Jed Crowther reported on meetings the Port has had with the company and included a published article about the company in materials he gave to the commissioners.
Commissioner Jeff Matson noted that every couple of years a company will come to the valley looking to use digesters to generate electricity, but the efforts usually fall through.
Matson noted that this effort is different, as previous efforts have required farms to pay for having their waste removed and used. This company, Arion Energy, already operates 46 digesters around the country and pays farms for waste.
Arion Energy also differs in how they intend to sell the results of their efforts. Because electricity is very inexpensive in this area, making a profit selling energy generated from digesters is a difficult proposition. Arion Energy intends to create methane gas and sell that to California.
The company proposes building two digesters in the Lower Valley, one near Sunnyside and one near Mabton.
"We appreciate the positive impact on the carbon footprint of the valley this effort would have," said commissioner Arnold Martin.