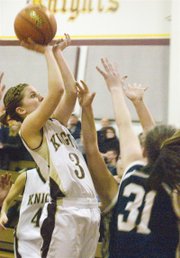 On paper it looked like a battle royale between two top 10 teams in State 1B girls basketball.
The reality was quite different last night as the second-ranked Sunnyside Christian Lady Knights dispatched visiting Moses Lake Christian, ranked sixth, by a score of 68-30.
Sunnyside Christian took control from the outset Tuesday night, forging a 14-3 first quarter lead.
"We started out with a half-court man-to-man defense and they (the Lions) struggled with that," said Sunnyside Christian Coach Al Smeenk.
Moses Lake Christian righted the ship in the second stanza, as both teams scored 15 points in the quarter.
"In the second quarter they put more pressure on our guards and forced some turnovers," Smeenk said. "The girls worked hard but we just didn't handle their pressure well."
The Lady Knights adjusted in the second half, going with two guards, Alyssa Haak and Katie Long, in the backcourt to handle the pressure.
"The two of them handled it well," said Smeenk.
Sunnyside Christian also made changes on defense employing a "gaps" strategy instead of its usual man-to-man defense.
Smeenk said his team learned the defense, a modified zone, from playing Colfax during a summer league game last year.
"The objective is to make them (opposing players) throw a lob pass inside," he said.
The mid-game strategies worked, as in the second half Sunnyside Christian outscored the Lions 39-12.
Haak had a strong all-around game at the point for the Lady Knights, pouring in 13 points to go with 10 steals and four assists.
"Alyssa did a whale of a job, she had constant pressure, one or two girls on her all night," said Smeenk.
Long, the other part of Sunnyside Christian's guard tandem last night, tallied seven points.
Marisa Broersma led the Lady Knights in scoring with 21 points and hauled down seven rebounds. Teammate Stormee Van Belle tallied 12 points to go with a game-high eight boards.
Freshman McKenna Walker accounted for most of Moses Lake Christian's scoring with 23 points. She had 16 of the team's 18 first half points. "Marisa Broersma covered her in the second half and did a great job," said Smeenk.
Sunnyside Christian (4-0, 12-0) puts its perfect season record on the line this Friday when it plays at Bickleton's new gym. Saturday the girls are scheduled to host Klickitat.