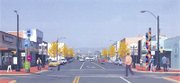 A plan to revitalize downtown Sunnyside received a nod of approval last night from the Sunnyside City Council.
Council met Tuesday night in a special session to receive an action plan summary for proposed improvements to the downtown core at Sixth Street and Edison Avenue.
The upgrade would also extend some improvements to portions of Decatur and Franklin avenues, as well as Fifth and Seventh streets.
The plan was developed during meetings with a steering committee of local citizens that started last September.
Highlights of the plan include a "neon alley" to display the city's neon sign heritage. The idea is to develop a pedestrian corridor between Fifth and Sixth streets adjacent to Centennial Park, connecting Central Park with the downtown core.
The alley could even include neon lights embedded in the walkway as an attraction.
The downtown revitalization concept also features ideas such as story poles to help convey Sunnyside's history, as well as a colorful brick paving zone adjacent to the curb.
Also suggested by the steering committee are globe light stands that recall Sunnyside's history, while at the same time retaining the flower baskets and banners to hang from the light posts.
Trees are also in the works, according to the plan presented last night, but would be a type that is friendlier to pedestrians and sidewalks. The committee has recommended Bowhall Maple trees because their growth is more vertical instead of branches that spread out.
In presenting the plan, Engineer Jeff Louman said accommodations are included for Sunnyside's truck traffic, as well as the larger wheel bases for parade floats that travel downtown.
Louman said there may need to be some changes in the city's downtown traffic signals, and suggested the city may have too many downtown traffic lights.
The next step in pursuing downtown improvements is to design the project.
Louman estimates the cost for design engineering and environmental review is $343,000.
The good news, he added, is that a pool of state grant money has become available that could pay most of the design cost.
"These don't come along every day," Louman said of the grant. He suggested Sunnyside consider submitting a grant application for the design funds. Louman noted Sunnyside's best chance in the competitive grant application process is to provide a match of $93,000.
The downtown plan was received favorably by the city council last night, with Mayor Pro Tem Don Vlieger requesting that the grant proposal be considered for action at next Monday's city council meeting.
The request was approved by Mayor Mike Farmer and council is expected to take action on the downtown proposal Monday.
Louman suggested getting the design work done now could help Sunnyside land more grant money when it comes time to fund project construction.
"This is a way to get a project shovel-ready for grant applications," Louman said.