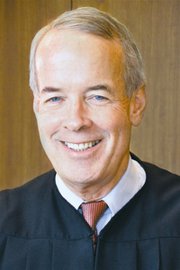 SEATTLE - King County Superior Court Judge Bruce Hilyer, a trial judge selected by his peers as presiding judge for three years in the state's largest court system, recently announced his campaign for Washington State Supreme Court to replace retiring Justice Tom Chambers, a Wapato native.
Hilyer, who was appointed to the superior court by Gov. Gary Locke in 2000, served as presiding judge from 2008 to 2011. In that role, he worked with fellow judges and management staff to formulate a strategic plan- the blueprint through which he helped steer the court through the most severe budget crisis in modern King County history.
Recognized as 2010 "Judge of the Year" by the 5,000-member King County Bar Association and rated "Exceptionally Well Qualified" by the Washington Association of Prosecuting Attorneys, Hilyer led King County to feature the first court in Washington to implement a paperless electronic filing system, estimated to save the public millions of dollars in future personnel and paper storage costs.
"The most important qualification for justice is a track record of judicial experience, a clear and impartial respect for the law, and ability to clearly communicate opinions." said Hilyer. "While this court has established a strong record in many legal opinions, I am excited to bring administrative experience and commitment to improving efficiency and innovation to the court."
Hilyer, who plans a full scale campaign kickoff in the spring by visiting communities across Washington state, begins the campaign with strong endorsements and support from more than 60 current and retired judges from every part of the state.