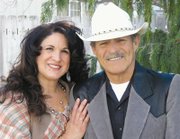 Dancing without legs is a difficult feat, but after many near-death scenarios, Roy Palomarez is just grateful to dance at all.
Though the Palomarez family has had a tough road, one thing is apparent: he has the love and support of his family.
He was first diagnosed with diabetes in 1975; something that would begin to haunt his health for years to come.
Then it began
Throughout the years Palomarez has undergone several surgeries because of heart complications and difficulties due to diabetes.
Because of many hours in doctors' offices, hospitals and dealing with incapacitating illness, he began to miss his favorite pastimes, dancing with his wife and visiting with family members.
Seemingly leaving the family hopeless, doctors continued to explain to Palomarez that his heart was just not strong enough to undergo an invasive but necessary surgery on his lungs.
That is until in 2009 when Spokane doctors said, "We can do it."
Proving the love, care and concern of this family, two waiting rooms were full with the Palomarez family anxiously awaiting the outcome.
His lung surgery was a success. But Palomarez's hopes of receiving a new kidney, which was failing due to diabetes, still troubled his mind.
Doctors continued to predict the possibility that he may not survive much longer. But Palomarez decided it was essential to survive.
He said, "I'm not ready to go, I'm not ready to leave my family."
Yet another surgery was successful, but he continued to endure complications including a run-in with gangrene - the decay of body tissue due to insufficient blood supply.
"Probably the most difficult decision that he has had to make so far was the decision of losing his legs," said his daughter, Becky Sambrano.
Both of his legs were amputated below the knee.
Regardless of the loss of his legs he continued to dance with his wife, Blanca.
"We called it the wheelchair dance," she added.
His wife sat in a wheelchair in front of him so that she could dance with her husband.
"It wasn't the same, but it was still fun," a teary-eyed Mrs. Palomarez said.
After being in a wheelchair for several months, Palomarez received his (artificial) legs.
He was able to walk, assisted by a cane.
Hope alive again
But this past Christmas Eve, a true miracle happened.
Mr. Palomarez walked across their home without his cane and began dancing with his wife.
"It was the most beautiful sight," Sambrano said.
The steps ahead
Now, to fulfill the rest of his journey, he is set to receive a new kidney. His daughter, Sambrano, is a match and willing donor.
"It's just an honor to be able to help him," the eldest of three children said. "My (two siblings) also have diabetes, so they can't donate (their kidney)."
A surgery date will not be set, though, until Palomarez has $5,000 saved up due to the large monthly costs associated with medications.
"One medication alone costs (more than) $700 a month, after (insurance) pays their part," said Mrs. Palomarez.
After receiving a new kidney, Palomarez will begin the trek to eliminate dialysis and reclaim his life.
To raise support, the Palomarez family is hosting a fundraiser and dance this Saturday, Jan. 21, at the Forum (the Old Tropicana building), located at 1818 Morgan Rd. in Sunnyside. The event will be held from 7 to 11 p.m. with menudo being served after the dance.
Admission is $25 per person.
Additional donations will also be accepted at the fundraiser or can be made to any Banner Bank branch in care of the Roy Palomarez Kidney Fund.