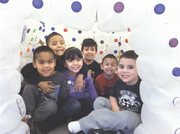 GRANDVIEW - Students at Harriet Thompson Elementary organized a school-wide contest to see who could bring in the most milk jugs.
Developmental pre-school teacher Janelle Hubbs said the multipurpose project aided in classroom learning while also allowing students a play area.
The idea to build an igloo structure out of nearly 400 milk jugs would serve students a sense of accomplishment along with studying habitats and the concept of snow and ice. The project also serves to teach students geography, discovering what types of places may have igloos, and allows students to conduct experiments with the igloo such as, what happens when you put lights inside and turn off the room lights; why does light shine through?
The class will also continue to use the igloo as a quiet place to read a book and a play area.
The idea came from a friend of Hubbs who saw a photo of the project on the internet.
"As I did research I realized how many ways this could benefit my classroom," she added.
When the students began the project, one student in Hubbs' class refused to come out from under the tables in the classroom.
"This igloo sits right in our main instruction area and was meant to serve as a safe place for that student that would not take away from his learning," she added.
In addition, Hubbs said the project served to develop teamwork skills like taking turns and also aided in communication development.
"This project has been a great way to involve my students in something creative, while also reaching out to our families in our school and the local businesses in the community," she added.