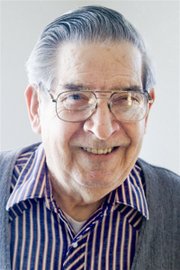 Sunnysider Don Cole retired his self-published Home Reporter newspaper nearly 10 years ago.
But that doesn't mean Cole stopped writing, he's just turned his focus to fiction.
Just two months ago he published Soldiers' Beer, a 110-page book that features a stream-of-consciousness writing style in an Orwellian "Big Brother" setting.
Cole says he doesn't know where the ideas for the book came from. "There's no soldier in it and there's no beer," he quipped. "I just came up with it."
A veteran of World War II and the Korean War, Cole said his military experience did inspire some of the happenings in Soldiers' Beer.
Something about the book stuck with him during the writing process, says Cole. "I've started four or five books and quit them, but I stayed with this because it was a good idea."
Before publishing his own newspaper, Cole worked for more than four decades at the weekly Sunnyside Sun newspaper.
His duties at the paper, which later merged with the Daily News, covered the gamut - from sweeping floors to cleaning the presses to serving as a reporter and columnist.
Cole says he likes fiction writing a whole lot better than the news business.
"If you're working for a paper you have to put in the time," he laughs. "But with fiction I can do that anytime I want."