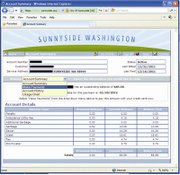 The service is available to anyone who receives services from the city and has access to the internet.
Online bill pay went live at the beginning of November, 2011, and has been getting more usage in the last few weeks, according to Sunnyside information technology specialist Ryan Austin.
Along with more usage, various minor issues are being ironed out as they are found.
"The website is still a work in progress," said Austin.
Customers can access an account by visiting the city's homepage at http://sunnyside.org and clicking the "Online Bill Pay" option near the center of the page or by entering https://billpay.sunnyside.org into the browser address bar.
Customers who haven't visited before will need to register. In addition to a person's name, address and e-mail address the website will also ask for an account number. The account number can be found on the customer's utility bill near the list of charges, and is a different number than the customer number.
Once registered and logged in, customers can check the status of an account, make payments using a credit card and view a history of payments made to the account. A chart of service usage will be available soon.
Austin said the system the city is currently using doesn't provide other options for paying besides credit cards, but may in the future.
Anyone having difficulties with the website can report the problem at webmaster@sunnyside.org.