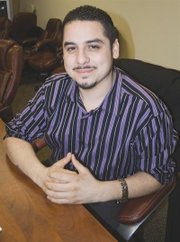 Sunnyside's Promise has hired a new indoor soccer program coordinator.
Edgar Mendez is hard at work, trying to obtain team sponsors for the program, slated to begin with an information and sign-up meeting next Monday, Jan. 23, at 6 p.m. at the Sunnyside Community Center.
He said the first practice is scheduled for Friday, Feb. 3.
Mendez is excited about the new recreational programs planned by Sunnyside's Promise. Although he has been hired specifically to coordinate the indoor soccer program, he said he has plans to interview for other programs, as well.
"I was raised in Sunnyside," he said, stating he knows the importance of recreational activities in the community.
Mendez said he's been exposed to gangs and knows that children in the community need a positive outlet that will help direct them toward a life of purpose and productivity.
For him, that outlet was sports and music. He was a member of the Sunnyside High School soccer team when he was in high school.
Now, Mendez wants his children and the youth of Sunnyside to have the opportunities he had.
He used his leadership skills learned as an athlete to eventually become an assistant manager at the Sunnyside Walmart Store. Although no longer working there, he said that gave him the ability to set further goals and he is now pursuing a degree in criminal justice.
The management experience also provided him skills that help him lead in other ways.
Mendez is an assistant coach for Grandview's Team Outlaw wrestling program.
"I believe firmly in being involved with the youth," he said, adding he wants youngsters like his children to have fun without boundaries, realizing their full potential.
Because the indoor soccer program, the first of many recreational programs planned by Sunnyside's Promise, is just getting off the ground, Mendez is speaking to businesses to obtain sponsors for the teams.
He said the program, organized for children ages 5-12, cost $20 per participant. Businesses can also sponsor children without the means to pay the registration.
The fee includes a t-shirt for each participant, featuring the name of the business sponsoring the team.
"My heart and my passion are with our kids," said Mendez, stating his goal is to aid in providing youth in the community with a positive experience as they grow up in the community he so dearly loves.