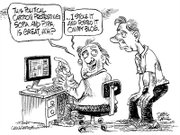 It's been a battle of the ages, and now it's hit the Web.
People have been fighting over copyright and intellectual property for years, but now they are targeting the internet through bills going before the U.S. House and Senate.
Though it's clear that copyright infringement and piracy are cause for concern, the proposed bills going before the Senate next week are bothersome.
The Stop Online Piracy Act, or SOPA, and the Protect Intellectual Property Act, or PIPA, in theory are written to "stop piracy." But in fact, what it really does is limit our freedoms.
The idea is good: to stop the problem at the source. The proposed bills plan to accomplish this by giving the government the right to shut down websites that are openly "dedicated to infringing activities," according to the PIPA bill. SOPA says it's in violation if it "facilitates" infringing activities.
The thing that troubles me the most is BBC News likened the bills in question to those already in place in China and Iran.
Besides the vague language describing what is actually "infringing" or what constitutes "facilitating infringing activities" in these proposed bills, the consequences open up our nation to becoming excluded from the rest of the world.
Sure, today we're just talking about sites like PirateBay or other foreign "torrent" sites, but tomorrow we might not like something BBC News has to say. Maybe it's incriminating or libelous, so we shut them out from any U.S. internet users too. The internet has opened up our world, and to close it now might do us more harm than good.
Luckily our internet honchos are on the job; organizing protests and reminding the people they still have a say. Google asked every user to talk to their congressmen. After the protests this week, it may have deterred the bills for now.
Though I don't have a more suitable recommendation on how to control piracy of any kind, I'm glad for now the protests are seemingly deterring legislators from passing the bills.