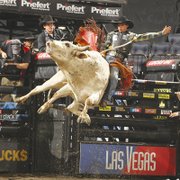 YAKIMA - The Professional Bull Riders' top bull riders and bulls will return to the Yakima Valley SunDome on Saturday, Feb. 11, at 7:30 p.m.
Tickets for the Touring Pro Division event, which went on sale Jan. 14, begin at $20. The tickets can be purchased at the Yakima Valley SunDome box office, Tickets West outlets, www.TicketsWest.com, and by telephone at (800) 325-SEAT.
Fans will witness thrilling 8-second rides and jaw-dropping wrecks throughout the adrenaline-soaked performance as the PBR's insanely brave cowboys risk it all against monstrous animal athletes that can weigh as much as 2,000 pounds.
The Touring Pro Division provides an opportunity for riders to compete in PBR-sanctioned events while earning money to qualify for the nationally-televised Built Ford Tough Series, which is comprised of the Top 40 bull riders in the world. For every five events on the Built Ford Tough Series, the top five riders (based on money earned) from the Touring Pro Division are allowed to move into the Built Ford Tough Series.
The Built Ford Tough Series will make 28 stops in 23 states before the Built Ford Tough World Finals in Las Vegas on Oct. 24-28. The World Finals are where the PBR world champion will be crowned and awarded the coveted championship buckle and a $1 million bonus. The richest bull riding event in the world, the World Finals has a total purse of more than $2 million.
The Built Ford Tough Series is televised every week on CBS, CBS Sports Network, NBC, NBC Sports Network and YouTube.
The Professional Bull Riders Association is the world's premier bull riding organization. This year marks the 20th anniversary of the founding of the PBR. In just two decades, the dream of 20 bull riders has become a global sports phenomenon that is televised worldwide. More than 100 million viewers annually watch primetime PBR programming on networks around the world.
The PBR has awarded more than $100 million in prize money and 24 riders have earned over $1 million, including Justin McBride with $5.5 million -- the most of any western sports athlete in history.