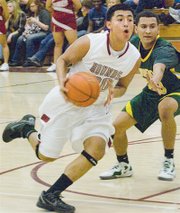 GRANDVIEW - Grandview was set to travel to Selah last Friday, but that game was rescheduled for tomorrow (Tuesday), giving the Greyhounds an extra night to prepare for their home game against Quincy.
The added rest appears to have paid off, resulting in a 43-36 victory for Grandview.
The Greyhounds, winners of four straight games now, opened the game with a 10-9 lead and further gained momentum in the second quarter, outscoring the Jackrabbits 11-5.
Quincy, however, attempted to equalize the game three times. There were four lead changes and two ties.
In the third and fourth quarters the scoring was even at 13 and nine points for each of the two teams, respectively.
The second period scoring is what provided the Greyhounds with the win.
"We found a way to win...Quincy is a disciplined team and their defense has always given us trouble," said Grandview Coach Roy Garcia.
Grandview had 15 looks at the basket from beyond the 3-point arc, however Quincy's defense kept the Greyhounds from properly planting their feet to secure the shots. The ball fell through the basket on only one of the attempts.
Garcia said, "It was a little frustrating to watch, but our boys battled all night and at the end, I was pleased with the outcome."
The Greyhound offense had to win from inside the paint and Sal Escobedo was successful at leading his team with 15 points. He secured the lone 3-point shot, four free throws and eight points from inside.
He also was the most successful player on the glass, securing six defensive rebounds and one off the offensive boards. He recorded three steals, as well.
Grandview's Isaiah Ruiz scored nine points and provided nine assists. Teammate Brandon Curtis tossed in another seven points.
The Greyhounds worked as a team to force the Jackrabbits to turn the ball over 17 times. Grandview also had a total of 37 rebounds.
The Grandview defense pleased Garcia. He said, "Shooting 17-of-54 is not really going to win you very many games unless you concentrate on the defensive side as the boys did for 32 minutes against a well-coached Quincy team."
He said the Greyhounds (9-2, 9-4) are anticipating a good game at Selah tomorrow (Tuesday).