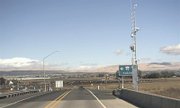 The Washington State Department of Transportation has made it easy for motorists traveling in inclement weather conditions, to "know before they go."
Area residents can access traffic cameras on the WSDOT website and are able to see exactly what the current road conditions are. Images are updated every 5 to 15 minutes, depending on the location.
More than 200 cameras are located throughout the state and nearly 10 cameras are placed between Ellensburg and the Tri-Cities alone.
Nearest to Sunnyside are two cameras that are located on I-82 near Prosser and Outlook.
For a full list and exact locations of cameras visit http://www.wsdot.com/traffic/cameras.
For motorists wanting to venture outside of the Yakima Valley, cameras are also set up at mountain passes state-wide, including White Pass on US-12, Stevens Pass on US-2 and Snoqualmie Pass on I-90.
Motorists traveling across mountain passes can access the images at http://wsdot.com/traffic/passes.