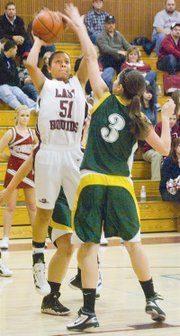 GRANDVIEW - The Lady Greyhounds took out Quincy by a convincing score of 56-33 in last Saturday's home game.
We controlled it from start to finish," said Grandview Coach David Gibb. "As a group we played well. The girls did a good job communicating."
Grandview took a lead in the first quarter, outscoring Quincy 10-5. The Lady 'Hounds dominated in the second quarter, bucketing 22 points to the Jackrabbit's nine-point effort.
The second half scores were closer, with Grandview outscoring Quincy 18-11 in the third and Quincy managing to outscore Grandview 8-6 in the final quarter.
"We got everybody some good minutes," said Gibb. "We were able to get some work in that will help us later in the season."
Quincy coughed up the ball 22 times to Grandview, and the Lady 'Hounds capitalized on the mistakes. Grandview scored 16 points off turnovers. The Lady Greyhounds also shot 66.7 percent from the free throw line in the first half.
The Jackrabbits didn't bring their shooting game, managing only 20.9 percent from the field to Grandview's 31.7 percent.
Leading Grandview in scoring was Payton Parrish with 15 points and nine rebounds. She was 6-for-10 from the field and also went 3-for-4 from the free throw line.
Breanna Lopez contributed 12 points to Grandview's score, nine from three-pointers and three from the charity stripe. Marissa Caballero also managed 10 points in the game.
"The effort was definitely there," said Gibb. "This game is a stepping stone for later in the season. It was a good night for us."
Grandview (6-5, 8-5) next plays at Selah on Tuesday, Jan. 24.