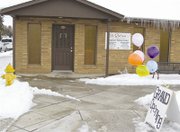 GRANDVIEW - Life Options is on the grow and this past Saturday celebrated the grand opening of a new pregnancy medical center it has added next to its Grandview office.
The non-profit, which ministers to those facing unplanned pregnancies, last week expanded into a former chiropractic clinic at 301 Division St.
Jan McDonald is the executive director for Life Options, and she says the new medical center space will serve as a clinic for seeing clients in need of testing or ultrasound exams.
Life Options has hired a part-time receptionist/administrative assistant to staff the front office of the new clinic.
McDonald says the addition will enable all nine of her paid staff members to have their own office space at the East Third Street building.
The expansion comes at a time of continued growth for the non-profit, which saw the number of pregnancy tests administered increase from 404 in 2010 to 452 in 2011, a spike of more than 10 percent.
McDonald said Life Options saw particular growth in administering ultrasounds, from 100 in 2010 to 145 last year.
The additional space also means more working room for the volunteers who serve Life Options. In 2011 the non-profit received more than 4,000 volunteer hours, McDonald said.
Ultimately, she says the expanded clinic area will help Life Options target clients who are at risk, "We want them to know that we are free, we are safe, we are clean and we are available."