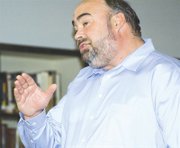 GRANDVIEW - Washington is changing state academic standards to hopefully prepare students to become competitive globally, competitive for work and competitive for post-secondary education.
Grandview Superintendent Kevin Chase outlined to school board members at Monday night's school board meeting the changes afoot for the district concerning state academic standards titled, "common core state standards."
The standards describe the knowledge and skills in English, language, arts and mathematics that students will need when they graduate high school.
Chase told the board that nearly 40 states across the nation are getting on board with the common core standards, which means a cost-effective way to teach students.
"The standards were developed by educators nationwide through a process led by the council of chief state school officers and the National Governor's Association," Chase added.
Chase says the common core standards will be cost effective because participating states are pooling resources and expertise to implement the standards.
Sometimes textbooks purchased for students may only meet a portion of the state's standards, but now with most states collaborating, textbooks will be developed that help students meet those standards.
In addition, the standards are the same for students across most states, says Chase, so students won't lose ground or really get behind in learning if they happen to move across state lines.
Chase also says the core standards are a close match to the current Grandview School District standards.
"The (core standards) strengthen (current) standards by targeting the skills and knowledge that are most critical for students to know," he said.
The common core standards are set in motion for implementation into the district. By the end of this school year phase one, brining awareness and understanding, will be complete. Next year school districts will begin building a statewide capacity to collaboratively develop and align resources and materials for the common core. By the school year 2013-2014 classrooms will begin transitions. The current state standard testing methods will be done away with by the end of 2014, says Chase.
New assessments will be developed by the common core standards and statewide implementation will begin in the 2014-2015 school year.