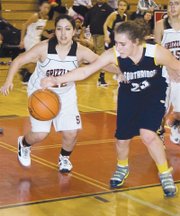 The Sunnyside girls hoop team last night prevailed 46-43 over the Southridge Suns.
"It was a different game," Lady Grizzly Coach Rick Puente said in reference to his club's 13-point win over the Suns earlier this season, stating his team had difficulties last night with its outside shots.
That meant Sunnyside had to create opportunities for itself from inside the lane.
Puente said his team had to be more aggressive against the Suns, knocking down the shots from inside the paint.
Sunnyside was held to six points in the opening quarter, but the Lady Grizzly defense kept Southridge on its toes, as well. The Suns only scored five points in the first stanza.
The second quarter placed the Lady Grizzlies in a better position. Sunnyside outscored the Suns 17-13 to take a 23-18 lead into intermission.
"In the second half we still had trouble getting shots to fall," said Puente, stating the most difficulty for his team came from the outside shots.
The Lady Grizzlies like to shoot for the basket from outside the paint, he said.
Because of that, Puente noted, the team began to settle for perimeter shots in the third quarter instead of continuing with the intensity of the second quarter. That led to missed opportunities.
He said he had to remind the team to exercise patience with the shot clock and not to force the ball too soon.
The aggressive offense, said Puente, provided Sunnyside with more opportunities from the charity stripe and at the rim.
Sunnyside and Southridge both scored 12 points in the third quarter.
The final stanza went the Suns' way. Sunnyside, said Puente, again settled for the outside shots, missing opportunities to score.
Southridge attempted to equalize the game, but fell short by the eventual three-point margin.
"Our defense wasn't bad...we did our job, got out and pressed to create turnovers," said Puente.
"Although the win wasn't pretty, we'll take it," he said.
Puente said the victory over the Suns places Sunnyside in a better position for postseason play.
Leading scorers for the Lady Grizzlies were Vanessa Alvarez, Natalia Bazan and Jordan Rodriguez with 10 points each. Teammates Tiana Perez and Selena Rubalcava each contributed seven points to the final score.
Perez was also responsible for grabbing the ball from the glass nine times, and Alvarez recorded nine steals.
Sunnyside (5-4, 8-7) will this coming Friday host West Valley and Saturday travels to Eastmont.