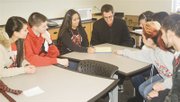 Standing at six foot eight, he towers above the students he teaches. But his height is no barrier to his communication with students, who don't hesitate to approach him with questions or problems.
Eidson was raised near East Wenatchee with his older brother. His father was a state park ranger and his mother a teacher.
"My mother's entire side of the family is teachers," he said. "We could make a school with just them."
Eidson went to Western Washington University and earned a degree in social studies. He went into student teaching and traveled a bit before he came to work in Sunnyside. During those travels he visited Washington D.C. and Southern Utah, then took a "little tour" of national parks.
Eidson is athletic, and enjoys running. He also likes hiking and backpacking, and has climbed Mt. Adams and Mt. Stewart. He's planning an assault on Mt. Rainier as well, which he says will cut down on time he has to go running.
He's now in his fourth year of teaching at Sunnyside High School. He took on the leadership students after teaching state leadership camps in the summer. He said he enjoys the work.
"I love working here," said Eidson. "I love it for the challenge. It's not a simple job."
Eidson says his co-workers are great people to work with, and his students are wonderful. He enjoys seeing the progress they make.
"Every day you feel like you're doing something real," said Eidson. "A lot of people question whether they've had an impact. I won't have that doubt."