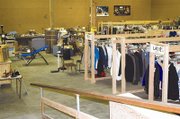 When some think it's time to discard household items, Erin and Robert Medina want to give those devices a 'Second Chance'.
The Sunnyside couple fulfilled their dream of owning a business with the opening of Second Chance Items nearly two weeks ago.
"It's always been (our) dream to own a business," Erin Medina said. "It's been a long time in the making."
Medina quit her job of 14 years, and the couple invested their entire savings for this 'second chance' opportunity.
"We decided it would be better to venture out on our own," she added. "I put everything I have into this business, so if the business fails; I will fail."
But Medina says the couple has a good setup, and a good start to owning and operating the business. The two have worked together to open the doors of the thrift shop and Robert Medina has handcrafted the clothing racks.
"We didn't get a loan or have any help," she added. "It's just us."
Though right now the sign on the building reads "Thrift Store," the business prides itself on giving still usable household items a second chance, and for others to find treasures which otherwise would be discarded.
"For a long time we've been seeing people throw out good stuff," Erin Medina said. "We decided to offer a service to the community by offering to pick up unwanted items."
As long as the items are usable, it doesn't matter the size or quantity of the donation, the Medina family will pick it up.
"When people call, we usually just ask if we need to bring a truck or a car," she added. "If you know that someone can benefit from (the item), we'll take it."
In addition, the thrift store offers a unique chance for customers to feel comfortable with the prices.
"If a customer thinks the item is too high priced, they can make us an offer," she added.
The store is located at 213 Yakima Valley Highway in Sunnyside, directly across from Commercial Tire.
Second Chance Items is open Wednesdays through Saturdays from 9:30 a.m. to 4 p.m. The store is closed on Mondays and Tuesdays for pick-ups. Donors are also welcome to drop off items at the store during operating hours.
For more information, or to schedule a pick-up, call (509) 837-8884.