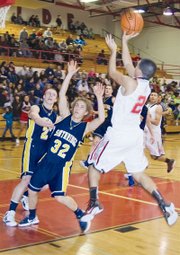 The visiting Southridge Suns avenged a 19-point loss earlier this season in winning a 54-53 squeaker over the Sunnyside Grizzly boys basketball team last night.
"We lost a barn burner," said Grizzly Assistant Coach Ruben Fernandez. "It was back and forth the whole way."
Sunnyside opened Monday night's contest - originally scheduled for last Friday night - by grabbing an 11-10 lead after one quarter.
Southridge gained the upper hand from there, using a 17-12 second stanza run to go up 27-23 at the half. That was the biggest lead of the night for either team.
Sunnyside closed the gap in the third quarter and shut down the Suns' leading scorer, Matt Mendenhall. The Grizzlies pulled within a point, down 38-37 heading into the final eight minutes.
"We were feeling pretty good, we changed up our defense," Fernandez said of his squad's third quarter stand.
Mendenhall broke loose in the fourth quarter, though, scoring six of his team-high 19 points.
Even so, Sunnyside managed to grab a one-point lead, 53-52, inside the final minute of play.
The Suns responded with a bucket to go up 54-53 with 19 seconds left on the clock.
"We called a timeout to set up a final shot and it didn't go for us," Fernandez said of the Grizzlies' final attempt.
He said the difference for Southridge in getting the win last night was rebounding and the Grizzlies' inability to can their free throws.
"We got outrebounded 39 to 29. In the second half it seemed like they went to the boards harder than we did," Fernandez said.
As for free throw shooting, Sunnyside was 8-of-17 at the charity stripe. Southridge also struggled, hitting just 11-of-23 free throw tries.
The difference, said Fernandez, is that the Suns knocked the charity throws down at clutch times. "They hit their free throws when they needed them in the fourth quarter," he said.
Sunnyside was led last night by a strong effort from Israel Manzo, who tallied 21 points while hauling down nine rebounds and dishing four assists.
The Grizzlies' Trey Serl scored 14 points, while Greg Spini helped Sunnyside in the paint with nine points while climbing the ladder for seven caroms.
Brad Scott scored 15 in the post for Southridge to back-up Mendenhall's perimeter scoring.
With tough league contests coming up this Friday at home against West Valley and this Saturday at Eastmont, Fernandez said the Grizzlies (3-6, 8-7) need to put last night behind them.
"We need to put this game in the past real quick and be ready for this Friday," he said.
A key to getting back in the win column, Fernandez adds, is improving the Grizzlies' free throw percentage.
"Our goal is to shoot in the high 70s for us to be able to compete each game," he said.