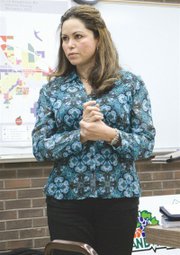 GRANDVIEW - Catholic Charities Housing Services has been dutifully constructing affordable homes for families in the Lower Valley since 1998.
The most recent project nearly complete is a 19-home development on Grandview's Meadowlark Road.
Now, the organization is gearing up to begin a seven-home project on Groom Court, aptly named New Life Homes.
That's according to Isabel Garcia, single family housing program manager.
She shared updates regarding the projects with the Grandview City Council last night.
"The mission is to help those most in need," said Garcia, stating Catholic Charities Housing Services helps first-time homebuyers living on a low income.
She said each development adheres to strict requirements, including environmental studies. Also evaluated is the market and the need for affordable homes in the community.
The project on Meadowlark Road was made possible because the property developer approached Catholic Charities with the idea of building homes on 18 parcels. A 19th home was added to the project when construction by its previous builder stalled.
Potential homebuyers, said Garcia, must meet strict guidelines. She said those applying for a home through the program must participate in homebuyer education classes, improve or establish credit and commit 250 hours of sweat equity.
"Homebuyer education is an important part of the process," she said, stating Catholic Charities works with the prospective buyer throughout the prequalification process, the construction of the home and beyond.
"We will be there for them for as long as we exist," said Garcia.
After a buyer is qualified, construction of a home begins. Garcia said each home is built in three to four months time.
During the construction, homebuyers contribute to the project, learning skills as they complete the sweat equity requirements.
Garcia said the skills include learning how to install backsplashes, tiles and flooring. The homeowners are also taught how to maintain the home.
The New Life Homes project on Groom Court will include three and four-bedroom houses valued between $145,000 and $155,000.
"All homes are energy efficient," said Garcia, adding the homes will be constructed with two-car garages, as well.
There were questions from council members regarding the landscaping of the properties and whether or not the homes could be rented.
Garcia said, "All homes must be owner occupied...there will be sod."
She said Catholic Charities Housing Services also aims to ensure the homes are neighborhood friendly.
City Administrator Cus Arteaga joined the conversation and informed the council members the homes that are constructed by Catholic Charities are built with high standards exceeding the standards of the homes that were built when the Carriage Square Court neighborhood was established in the 1970s.