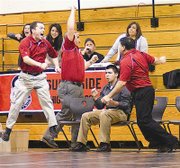 A packed house got its money's worth last night. The Grizzly faithful watched, almost in disbelief, as the Sunnyside High School wrestling team rallied from a 28-10 deficit to win the final five bouts against the visiting Pasco Bulldogs.
The late heroics by the Grizzlies earned Sunnyside an improbable 39-28 victory.
Both teams were unbeaten in 3A CBBN action entering Tuesday evening's match-up. The come-from-behind win assures Sunnyside of at least a share of the league crown. The Grizzlies close out conference action this Thursday at West Valley.
Sunnyside's victory against the Bulldogs was even more unlikely, considering Coach George Paulus went to his bench, his JV, three different times last night. And to the delight of everyone involved with the Sunnyside wrestling program, all three fill-ins came through in a big way. Paulus, too, took several gambles last night by moving several wrestlers up a weight class.
"The kids we have in our program, it allows us to make some moves. It's really a testament to the quality of wrestlers we have on our varsity and our JV," said Paulus.
After losing six of the first nine matches to Pasco and falling into a 28-10 hole, the Grizzlies put together a five-bout win streak that time and again brought the large crowd to its feet.
Starting the comeback for Sunnyside was 182-pounder Daniel Avalos. He made short work of Pasco's Rudy Jimenez, pinning the Bulldog at the 1:25 mark.
"Daniel tore him up," said Paulus.
That victory brought fill-in Josue Pinedo to the mat for the 195-lb. bout. Pinedo showed no mercy in rolling to a 14-2 lead over James Dobosz before pinning the Bulldog midway through the third round. The fall cut Pasco's lead to 28-22.
Miguel Guzman then squared the match at 28-all by pinning P.J. Avery just 50 seconds into the 220-lb. match.
Austin Carman, who's wrestled at 220 lbs. all season long, gave Sunnyside the lead for good in the 285-lb. bout. He built a 17-0 lead on Arturo Tejada before the referee stopped the bout in the third period. The technical fall, worth five team points, put the Grizzlies ahead 33-28.
That left one match remaining, the 106-lb. bout between Sunnyside's Homer Romero and Pasco's Christian Magana.
"Homer's job was to not give up a pin and the six team points that come with it," said Paulus.
Romero went far beyond what he was asked to do, however. The mighty-mite rolled out to an 11-0 lead on Magana, turning the Bulldog halfway through the final round and registering a pin.
"It was a thrilling way to end the night," confirmed Paulus.
Last night's action started with the 113-lb. bout, where Jesse Barajas claimed a narrow 5-2 decision against Pasco's Dalton McDonald.
In an upset of sorts, Sunnyside lost the short-lived lead when Santos Guerrero got pinned by Pasco freshman Timmy Martinez. The Bulldog turned Guerrero sideways and threw a leg ride on the Grizzly, turning him onto his back and pinning him.
Sunnyside's Nathan Gonzalez, at 126 lbs., regained the lead for the Grizzlies when he scored a 12-2 major decision against Hugo Mabry.
Pasco countered, though, with three consecutive victories to put the Grizzlies in a deep hole.
The three-match win streak included Gilbert Mendoza's 13-4 major decision over fill-in Daniel Guillen (132 lbs.), Deondre Sparks' 3-2 decision against Isaac Guerrero (138 lbs.) and Robert Mendoza's pin of Omar Cantu (145 lbs.).
Paulus said although Guillen fell by a 13-4 score, the JV wrestler stepped up big by avoiding a pin. "It proved bigger as the match went along," said Paulus.
The Grizzlies averted a fourth straight loss when David Vidales, at 152 lbs., got by Jackson Fromm by a 6-1 score.
Pasco regrouped quickly, however, winning the next two bouts to take a 28-10 lead on Sunnyside. The first of those two victories was a pin by Sam McKittrick against Sunnyside's Sam Romero (160 lbs.). Lonnie Hurley then notched a 13-3 major decision against back-up Max Ramos of Sunnyside (170 lbs.).
Paulus said Ramos filled in admirably at the varsity level, especially considering he kept Pasco from laying claim to six team points. "Max wrestled the Hurley kid well. He did a great job and denied Hurley the pin," said Paulus.
Sunnyside then ran off the five consecutive victories to score the come-from-behind win.