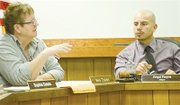 MABTON - During preliminary 2012 budget planning late last year, the Mabton City Council identified the need for increased police coverage.
To save funds, Police Chief Rick Gutierrez recommended adding reserve officers on the payroll at $16.50 per hour.
The idea was to increase coverage while still attempting to save the city money.
But, according to Mayor Angel Reyna, the plan hasn't worked out like the council had hoped it would.
The council, last night (Tuesday), voted to approve corrected salaries effective Jan. 31, taking back the previously approved $16.50 hourly wage from reserve officers.
Reyna said it's a normal practice to not include reserve officers on the payroll. Offering a paycheck to the officers was a plan that just isn't working out like he had hoped.
However, he says the council is looking into hopefully finding a quality candidate to add to the full-time police department's payroll in the near future.
Plans aren't set in stone, however. But Reyna says the council still wants to see increased police coverage in Mabton.