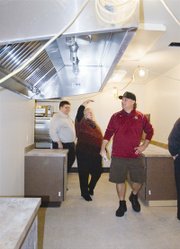 GRANDVIEW - "We think you can begin moving in in February," said Karl Croft of Blews Construction this past Tuesday night.
He was speaking to members of the Grandview City Council during a tour of the newly constructed community center located at Country Park.
The new facility features two main entrances, one for those participating in the senior meals program and another for the general public participating in parks and recreation programs.
There is a conference room, a game room, a commercial kitchen, a dining area, a reception area for parks and recreation programs, a window for senior meal tickets and a gymnasium.
Restrooms are located on both sides of the building for ease of access and a billiards room, as well as a room for the American Legion, are all among the amenities provided at the new center.
Architect Wes Edwards said the project has made him feel as though he is a part of Grandview.
He said the project is something he has been a proud participant in.
"We have reused as many lights and fixtures from the George Young building as possible to keep costs down," Edwards told the council members.
Parks and Recreation Director Mike Carpenter said furniture and other décor have been donated by a variety of organizations and businesses throughout the community.
The game room, he said, will include an air hockey table, a foosball table, ping pong, a television and vending machines.
Edwards said the kitchen has been plumbed to a grease separator and will house a large gas range, commercial refrigerators and freezers.
The council was impressed with the progress of the facility, and several members are excited to see it near completion.
Carpenter said, "Parks and recreation programs will experience some changes."
He explained the parks and recreation staff will be operating the community center and some special events will no longer be possible.
However, he said, there will be advantages with the new facility, including added programs and a place to host after school activities.