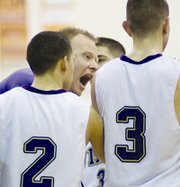 MABTON - The Mabton Viking boys basketball team got down early and could never catch up in a 66-58 loss last night to visiting Royal.
The Knights took the lead from the outset Wednesday night and built a 13-point advantage before settling for a 38-27 lead at the half over Mabton.
"They were able to get the shots they wanted and they were making everything," Mabton Coach Brock Ledgerwood said of the first half. "We didn't have any intensity defensively, we just started flat."
The Vikes found their spark in the third stanza, as Josh Sanchez tallied 14 of his game-high 30 points in the quarter to pull Mabton to within four points heading into the fourth frame.
"The third quarter we took it to them," Ledgerwood said of his team's 17-10 run in the period. "We came out with some intensity and were able to get some stops. That led to some better shots offensively."
On offense, the coach said Mabton's strategy to get back in the game in the third quarter was to feed the ball in the post to Sanchez. "They had a shorter guy defending him, so we really tried to get the ball inside to him," Ledgerwood said.
Royal found an answer in the fourth frame, though, scoring seven unanswered points to again go up by double figures.
"We came back but we could never get even," Ledgerwood said of the Knights' ability to keep the Vikes at bay.
Luis Ruiz and Andrew Gutierrez added eight points each for Mabton, while teammate Alex Espinoza chipped in seven points.
Royal was paced by Kent Christiansen with 21 points.
Last night marked Mabton's second consecutive loss in SCAC East play.
Ledgerwood says the Vikes (5-3, 6-10) will need a better start to avoid three straight losses when they play at league-leading Kiona-Benton tomorrow night (Friday).
"We've lost two in a row so it's important for us to show up and play well," he said.