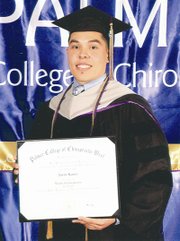 SEATTLE - Sunnyside native Aaron Ramos is taking a crack at success after completing courses at Palmer College of Chiropractic in San Jose, Calif. this past December.
The SHS grad began his trek into higher education by earning his Bachelor's degree at Washington State University. There he focused his studies in science kinesiology.
From the beginning of his college career, Ramos says he knew what the end goal would be: to become a chiropractor. He says he's always been interested in health, sports and the importance of keeping in shape. Chiropractic services emphasize natural health and along with eating and exercising properly, Ramos says one can have a better quality of life.
The road was long, with four years of undergraduate studies, and a three-and-a-half year program at Palmer College. But he's finally made it.
Ramos, fresh out of chiropractic college, plans to open up his own practice in the Seattle area.
Plans are forthcoming, and he says he is looking forward to offering health and a high quality of life to his patients.