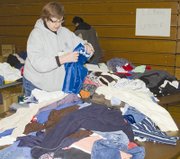 The final tally from Sunnyside and the rest of Yakima County's homeless count yesterday won't likely be known for a few months, but the number of homeless appears to be on the increase - at least in the Lower Valley.
That's according to initial figures during the eighth annual Point in Time homeless survey held yesterday, Thursday.
Sunnyside was one of five locations countywide conducting the survey and providing services for the homeless.
The survey is an anonymous one-day count of people in Yakima County and is sponsored by the Homeless Network of Yakima County.
In Sunnyside more than 20 vendors and providers were on hand at the St. Joseph church gym, offering services ranging from clothing to dental check-ups to screening exams for diabetes.
Arthur Sabala is a recovery support tech for Yakima County. He and his wife Natacia were on hand here yesterday to help in the count.
By noon yesterday, he said the count for Sunnyside was already at 126 people served, a more than 25 percent hike from the 98 served in 2011.
"Warm blankets and clothing are some of the most important things they're receiving," Sabala said of the homeless served here yesterday. Natacia added that sleeping bags were especially snapped up quickly by those looking to fend off winter's chill.
Yesterday's survey not only did a count and met immediate needs, but also featured providers offering long-term solutions. Those services included housing referral agencies and the local Sunnyside VFW chapter on hand to assist veterans in claiming their benefits.
If the apparent increase in the homeless count holds countywide it would break a trend towards a declining number of homeless.
The total homeless count in Yakima County had dropped from 1,314 in 2009 to 1,191 in 2010 and to 887 in 2011.
Likewise, the count has shown homeless declines in Sunnyside, from 498 in 2009 to 197 in 2010 and to 98 last year.
Avery Zoglman is the homeless coordinator for Yakima County human services, and he says it's too soon to tell what the numbers will show this year.
"I can tell you we're seeing a different pattern this year than we've seen in the past," Zoglman said by phone from the Yakima survey location at State Fair Park. "Usually we see a big spike in the morning and then it drops off. Today there hasn't been a spike. It's been constant, steady traffic all day. It'll be interesting to see the final numbers."
The final tally for the 2012 survey will be announced in mid-March, Zoglman said.