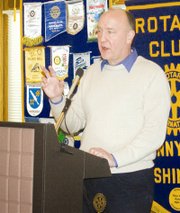 David Olson spent three years in Haiti, and it literally changed the direction of his life.
Olson, now the Chief Operations Officer at Sunnyside Community Hospital, learned during his time in Haiti that he enjoyed the challenges of administration. As a result, instead of going into grad school as a medical student, he went into health care administration.
Speaking to the Sunnyside Noon Rotary Club recently, Olson compared the situation in Haiti to the health care needs here in the Lower Valley, noting that the needs in both places are great.
On a scale of one to five, with five indicating the most need, both Sunnyside and Haiti rank at five. But Haiti has deep-rooted issues that need to be resolved in addition to the lack of health care.
Olson noted that Haiti is the poorest country in the western hemisphere. A quarter of a million people died in the earthquake two years ago, and the country never did receive much of the aid it was promised.
Haiti has 70 to 75 percent illiteracy, and most people are lucky if they get through grade school.
Some of the problems go back to the earliest white settlers on the Haitian side of the island of Hispaniola, who deforested the mountains so completely that 98 percent of the topsoil that existed at the time of Columbus is now washed away.
With an unstable government, a lack of places to grow crops and a unique language that creates a barrier for its people, the country is considered one of the three least developable countries in the world.
Despite the problems, Olson said he admires the Haitian attitude. They get by, regardless of the challenges they face.
Olson's personal connection with Haiti is a family he's helped over the years since his first stay.
"The father is a block mason," he said. "If the boss mason decided not to pay him, he didn't get paid."
Olson decided to help send the family's children to school, and helped them to build a house. The house collapsed in the earthquake.
"For an entire year they couldn't live in the house," he said. "They stretched a tarp from one wall and lived in that until they could rebuild."
Olson continues to have contact with Haiti, and has led several work teams for short missions to the country over the years.
He quoted a Haitian proverb in Haitian Creole that summarized the situation there, translating it for the group.
"Behind the mountains are more mountains," he said. "There is always more work to be done."