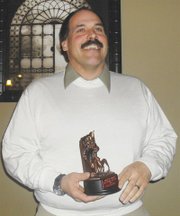 The Sunnyside Fire Department recognized several firemen earlier this month for outstanding service. Fire department personnel gathered at Bon Vino's recently for their annual awards dinner.
Chad Werkhoven was named the department's volunteer firefighter of the year, while Sean Glasser took home the award of career firefighter of the year. Additionally, the top responder awarded was given to Gary Pira.
In addition, perfect attendance recipients include Ed Laverman and Jerry Monroe, who have been with the department for 32 years, Lloyd Hazzard with 20 years in the department, Jamie Price with 19 years and Woody Clough with 17 years. In addition, Aaron Hunsaker (15 years with the department), James Woodworth with 10 years, Alan Van Beek with nine years, Chad Werkhoven with eight years and Joshua Visser with two years, were also awarded with perfect attendance.